July 14, 2012 through September 01, 2012
When Pigs Fly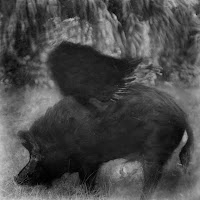 Anne Berry – Newnan, Georgia
Ann George – Shreveport, Louisiana
Gayle Stevens – Downers Grove, Illinois
Lori Vrba – Chapel Hill, North Carolina
Judy Sherrod – Wichita Falls, Texas
LightBox Photographic Gallery presents the inaugural exhibit of "When Pigs Fly" Photography Collective. When Pigs Fly is made up of five of the most imaginative and inspirational women photographers in the nation, all working in traditional and alternative photographic methods. LightBox is very proud to host the inaugural show for this incredible group of photographic artists.
This group originated with the shared experience of spending a week together on Ossobaw Island, Georgia in June 2011. When pigs fly impossible things happen, and with this combination on this magical island, awesome things did occur. In the words of Anne Berry, "We made our first trip as a collective to Ossabaw. Looking at the surface of the lives and work of the members of When Pigs Fly, one might wonder not only how we came together but also how we can call ourselves a collective. Our work has obvious differences: 5 subjects, 5 ways of capturing an image, 5 processes. Yet the photographs share an aesthetic. They are not straight photographic prints; in each image the hand of the artist is evident. We share a sensibility that comes from the appreciation of nature and beauty and also a Southern heritage. The willingness to share ideas and experiment with technique is what formed the collective".
"Five women, all working artists with a passion for the medium of photography, came together for seven days in June of 2011 on two remote barrier islands off the Georgian coast…Ossabaw and Sapelo. A domesticated wild boar, Sicilian donkeys, a vintage bear head and late afternoon Mint Juleps were only a few of the many unexpected catalysts that fueled the artists' exceptional imagery and implausible ideas". In the words of Lori Vrba, "The electrifying collaboration inspired the ladies to join forces and the Collective was born. Yes, Pigs Do Fly. Each has found her own unique voice and path in photography, and yet they all recognize and celebrate a common ground in the commitment to their craft and the southern vibe that is consistent in their work".
Return to Exhibits