May 09, 2015 through June 09, 2015
Polly Chandler - Emotional Rescue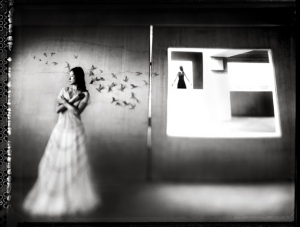 Opening Reception , Saturday, May 9, 6-9pm
It is with great pride that LightBox presents the beautiful images of one of our favorite photographic artists, Polly Chandler .
With this exhibit we wish to help Polly assist her parents, who recently lost their home to a fire, with a benefit to help them recover from this tragedy. LightBox offers prints for sale with no commission to the gallery.
"This body of work is a collection of images I have made over the course of my fine art photography career thus far. Each image is a narrative representing myself, an occurrence in my life, or a way to communicate my experiences.
This particular Exhibition is especially close to my heart because, not only am I absolutely honored to have been invited by LightBox Photographic Gallery to have a Solo Exhibition, it is also a Benefit for my parents, who's house burned down about a month ago.
I'm grateful for this opportunity to assist my parents in the rebuilding of their home, but I also have the opportunity to show my photographs in a space that I respect and admire; LightBox Photographic Gallery." — Polly Chandler
Emotional Rescue Image Gallery
Polly's prints are priced at about 1/2 of her normal sale prices.
Buyers receive a signed bare print, printed by Polly on Epson Velvet Fine Art Paper.
Prints are available in the following sizes
Sizes: 8.5×11 • 11×14 • 13×19 • 17×22
Prices: $100 • $200 • $300 • $400
Iphone Image Gallery
Also available are prints from images taken with Pollys iphone.
5×5's – $50 • 8×8's – $75
Please contact Michael at the gallery for print sale inquires. .(JavaScript must be enabled to view this email address)
Polly Chandler grew up in Southern Illinois and graduated with an MFA in photography from Southern Illinois University. She has taught many classes at both the Art Institute of Austin, and a Traditional Darkroom Class at Austin Community College. Polly has also exhibited her work nationally and her photographs have been published in magazines such as PDN, Rangefinder and B&W Magazine. She was also nominated for the prestigious Lucie Award presented at The Carnegie Hall in NYC, a personal highlight. Polly now lives in Nashville, TN, and continues to make photographs as well as strives to challenge herself in her work.
Return to Exhibits