March 11, 2010 through April 06, 2010
Lightleak at Lightbox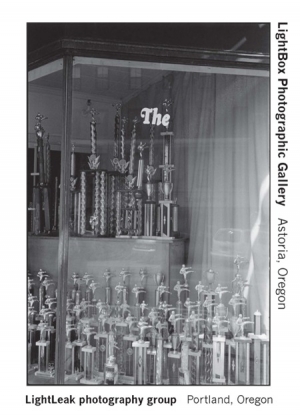 LightBox Photographic Gallery welcomes LightLeak Photography Group. LightLeak is a diverse group of photographers and filmmakers whose focus ranges from art to documentary, landscape, and street photography. The LightLeak group consists of twelve Portland Photographers who meet once a month to share and critique work. While no common theme can be seen through the groups work as a whole, the connection is more of a common ideology and love for the medium that brings these twelve photographers together each month to share their vision. Collectively they bring an uncommon view of photography, from unique juxtapositions and global slices of life to gritty urban scenics. The members of the group showing are Blake Andrews, Bob Gervais, Lisa Gidley, M. Bruce Hall, Chris Bennett, Faulkner Short, Steve Rockoff, Bryan Wolf, Bobby Abrahamson, and George Kelly. They have been meeting for six years and have exhibited as a group at Newspace Center for Photography, The Buckley Center Gallery at the University of Portland, The Albina Press, and Stumptown Coffee Roasters.
For more information and individual websites please visit www.lightleak.org.
The show will run at LightBox Photographic Gallery from March 13th through April 7th.
Return to Exhibits