July 11, 2015 through August 04, 2015
Jim Lommasson - American Fight Clubs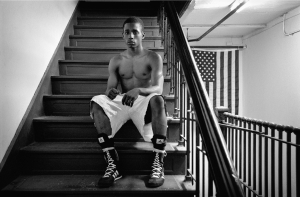 Please join us for the artist reception and opening on the evening of Saturday, July 11, from 5-8p.m.
Jim will give an artist talk at 4p.m. prior to the opening, seating is limited, please contact LightBox for reservered seating.
Fight clubs are located in the forgotten corners of most American cities. They're shoehorned into storefronts, basements, or vacant warehouses, usually in the toughest part of town. Inside is a community of fighters, trainers, and hangers-on unknown even to the most ardent boxing fans. The gyms reek of sweat, pounding leather, pounding music, barking trainers, and determination. The gyms are fight factories, sweatshops, but sweatshops with a mission. The gyms are often a sanctuary, where kids and young adults, many of them drawn to the gym by chaos or violence in their own lives, can channel aggressive impulses in an environment that stresses discipline, hard work, and respect.
"Lommasson — who grew up hearing fight stories from his father, an amateur boxer — spent 10 years photographing gyms across America. "The fighters became human," he says, " and then they became my friends." – New York Times Book Review
"Both up to the minute and timeless, Lommasson's pictures are also affecting, intricate and sometimes just glorious."  – Time Magazine
"What the jukebox was to Robert Frank, who traveled America in the 1950s photographing and codifying American culture and life, the heavy bag and spit bucket is to Lommasson, who photographed the effluvia and detritus of more than 100 gyms. Coast to coast and up to Canada, boxing gyms are places of peeling stucco, naked light bulbs and dirty mirrors, his images tell us. But they are also places of contradiction, where boxers tape their hands with the delicacy a ballerina uses to tape her feet, and where gum-ball machines coexist with broken noses." – Victoria Blake, The Oregonian
Jim Lommasson is the recipient of The Dorothea Lange – Paul Taylor Prize from The Center for Documentary Studies at Duke University for his critically acclaimed book, SHADOW BOXERS: Sweat, Sacrifice, and the Will to Survive in American Boxing Gyms.
Jim has just completed a book project about American soldiers from the Iraq and Afghanistan Wars and their lives after their return from war. The book includes Lommasson's photographs, as well as photographs and writing by the soldiers. EXIT WOUNDS: Soldiers' Stories' – Life After Iraq and Afghanistan – is a traveling exhibit and a book project.
Lommasson's second book, Oaks Park Pentimento was published by Oregon State University Press in 2009.
Collections and Awards:
The Dorothea Lange – Paul Taylor Prize from The Center for Documentary Studies at Duke University, New American Art Union Couture Stipend, Oregon Art Commission Fellowship, New York Art Director's Award, Media Inc. and American Marketing Association's Person of the Year. Lommasson is a 2012-2016 Oregon Humanities Conversation Grant Recipient for his public discussion "Life after War: Photography and Oral Histories of Coming Home." Permanent Collections: Reed College, Yale University, SFMOMA, Washington Arts Commission, Portland Art Museum, Seattle Arts Commission, Visual Chronicles of Portland.
Return to Exhibits