April 11, 2015 through May 08, 2015
MobileMagic XVIII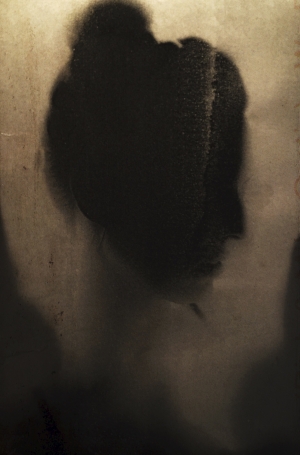 Congrats! to Katy Tuttle for receiving the Juror's Award for the image "Untitled 1"
••••••••••••••••••••••••••••••••••••••••••••
Complete Image Gallery – MobileMagic Exhibit April 2015
••••••••••••••••••••••••••••••••••••••••••••
Congrats! to the following photographers for being selected for MobileMagic XVIII
Katy Tuttle • Victory Tischer-Blue • Miguel Angel Benjarano • Stoo Batchelor
Suzanne Goodwin • Joshua Sarinana • Alan Julliard • Richard Bonvissuto
Helen Barrette • Jennifer Henriksen • Connie Gardner-Rosenthal
James Mullineaux • Meryl Skyler • Amy Rutherford • J.M. Golding
Thanks to Polly Chandler for serving as Juror
I am, admittedly, a die-hard film lover, and I primarily photograph with a Large Format View Camera using the now defunct Polaroid Type 55, which I stocked up on in 2009. I truly enjoy the level of difficulty with a large format camera; when shooting with film it is not easy, it's a challenge. You must make sure to hone your craft, get it right in the camera, without being able to see the outcome instantaneously. Shooting with film is 100 times more challenging than digitally, in my humble opinion, and that is why I like it. For myself, there is such a sense of accomplishment that I don't find when I shoot digitally. If it were easy, it wouldn't be as fun.
Having said that, when I first got my iPhone I will admit that I was dubious about using the camera, but then I began to realize it IS simply another great tool, and that I can utilize it to make images I see all around me with ease, because I always have my phone on me.
I liken using a Phone-Camera to "an athlete stretching for a race", if that makes sense. It allows me to use my creative mind daily, I can practice using my visual skills (stretching), and noticing things that the average person might simply walk right past, and take the image with ease right then and there. Then, when I'm ready to lug out all my film equipment, I've been using my creative mind daily with my camera-phone (again, stretching my creativity mind with my iPhone camera)!
There have been plenty of times where I thought, dangit, wish I'd gotten that one on a big ol' 4X5 negative, ha! But I'm pretty proud of some of the shots I've made with the phone! It's a good time. And I am definitely hooked on the iPhone Camera! I even have a section on my website dedicated to the images I have created with my phone. It is a great tool, and a lot of fun! ~ Polly Chandler
Polly Chandler grew up in Southern Illinois and graduated with an MFA in photography from Southern Illinois University. She has taught many classes at both the Art Institute of Austin, and a Traditional Darkroom Class at Austin Community College. Polly has also exhibited her work nationally and her photographs have been published in magazines such as PDN, Rangefinder and B&W Magazine. She was also nominated for the prestigious Lucie Award presented at The Carnegie Hall in NYC, a personal highlight. Polly now lives in Nashville, TN, and continues to make photographs as well as strives to challenge herself in her work.
MobileMagic images are available and printed by LightBox as 5.5" x 8.5" Archival Inkjet prints on beautiful 100% cotton rag acid free paper, $35 Please contact us with interest in prints of any MobileMagic images* at .(JavaScript must be enabled to view this email address)
Current & Past MobileMagic Exhibits
••••••••••••••••••••••••••••••••••••••••••••
Mobile Phone Photographic Images are part of our everyday life. We nearly all have smart phones, allowing us to create images with the immediacy of reaching into our pocket, using the processing tools of the myriad of apps, which allow us to create with a serendipity similar to toy camera photography. In our MobileMagic Exhibits we wish to bring these uniquely creative images to the final print, off of our phones and into the beauty of a fine photographic print.
MobileMagic is a monthly exhibit for display in the gallery and online, opening during our regular Second Saturday Monthly Openings. Each month we display archival pigment prints of the top 25 juried images, selected by a renown juror from the photographic community. LightBox will print every submission, that's right, every single submission, not just the juror's top 25. All are printed as a 100% archival rag pigment print and mailed to the photographer. A Juror's choice will receive a $50 cash award.
Return to MobileMagic