November 08, 2014 through December 12, 2014
MobileMagic XIV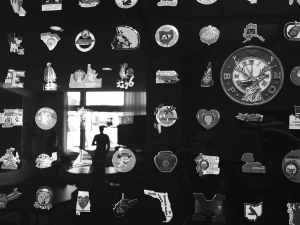 Congrats! to Leigh Oviatt for receiving the Juror's Award for the image "Elks Lodge"
••••••••••••••••••••••••••••••••••••••••••••
Complete Image Gallery – MobileMagic Exhibit November 2014
••••••••••••••••••••••••••••••••••••••••••••
Congrats! to the following photographers for being selected for MobileMagic XIV
Suzanne Goodwin • Joshua Sarinana • Ronaldo Aguiar • Leigh Oviatt
Amanda Rosenblatt • Jody Miller • Tracey Russett • John Carleton
David Becker • John Eakin • J.M. Golding • Ky Lewis • Mariana Bartolomeo
Adrienne Cragnotti • Keri Weiland • Carole Meltzer • Hannah Shaffer
Amy Rockett Todd • David Becker • John Eakin • Rebecca Ackporiaye
Thanks to Robert Galbraith for serving as Juror
"The iPhone is perhaps the most important piece of photography equipment that we own. It's compact and light, unobtrusive and you have it with you all the time. The artistic control you have in your hand is unmatched, and we are very fortunate to be able to share our visual memories as they happen. In real time. It is taking us back to a time when photographers used one camera and one lens without a zoom. I believe it is the most important tool that we carry." ~ Robert Galbraith
For more than thirty-five years Robert Galbraith has been a wire photographer and is now Senior Photographer for Reuters pictures based in San Francisico. He has covered the top news, sports and political stories of our times, Super Bowls, Olympics, the Oscars, Golf championships, Hurricane Katrina, the Los Angeles riots, space shuttle landings, America's Cups, and major disasters. The list is virtually endless.
MobileMagic images are available and printed by LightBox as 5.5" x 8.5" Archival Inkjet prints on beautiful 100% cotton rag acid free paper, $35 Please contact us with interest in prints of any MobileMagic images at .(JavaScript must be enabled to view this email address)
Current & Past MobileMagic Exhibits
••••••••••••••••••••••••••••••••••••••••••••
Mobile Phone Photographic Images are part of our everyday life. We nearly all have smart phones, allowing us to create images with the immediacy of reaching into our pocket, using the processing tools of the myriad of apps, which allow us to create with a serendipity similar to toy camera photography. In our MobileMagic Exhibits we wish to bring these uniquely creative images to the final print, off of our phones and into the beauty of a fine photographic print.
MobileMagic is a monthly exhibit for display in the gallery and online, opening during our regular Second Saturday Monthly Openings. Each month we display archival pigment prints of the top 25 juried images, selected by a renown juror from the photographic community. LightBox will print every submission, that's right, every single submission, not just the juror's top 25. All are printed as a 100% archival rag pigment print and mailed to the photographer. A Juror's choice will receive a $50 cash award.
Return to MobileMagic