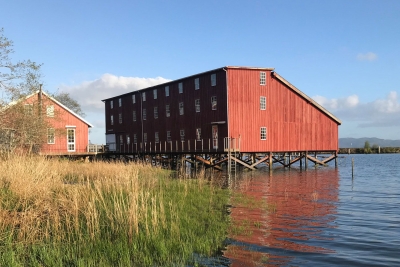 AlderBrook Station - Symposium Site
2019 LightBox Symposium for Alternative Process Photography
LightBox Photographic Gallery
1045 Marine Drive
Astoria, Oregon 97103
503.468.0238
2019 LightBox Symposium for Alternative Process Photography
September 13 – 15th in Astoria, Oregon
LightBox will present an incredible group of Alternative Process Photographers in the LightBox Symposium for Alternative Process Photography on September 13, 14 and 15th. We invite you to join us and be part of a very special weekend!
The theme of this years Symposium is Alternative Visions!
How does your artistic vision require use of alternative processes?
This years Symposium features a juried Alt Process exhibit Alternative Visions
showing at LightBox from September 14 – November 5, 2019
Juried by our Keynote Speaker, Christina Z. Anderson
Keynote Speaker:
  Christina Z. Anderson  
Christina Z. Anderson is Professor of Photography at Montana State University
where she teaches the experimental black & white darkroom and alternative processes.
Symposium Presenters:
Christina Z. Anderson • Confluence: Contemporary Dim and Dark Room Practice.
Jim Fitzgerald • Traditional Carbon Transfer Printing: Creating a Fine Art Print.
Denise Ross • The Hand Made Silver Gelatin Emulsion, why not?
Michael Puff • The Art and Imagination of the Platinum Palladium Process.
Karen Hymer • The Love of the Photopolymer Gravure Process.
•••••••••••••••••••••••••••••••••••••••••••••••••••••••
     
We would like to invite you to attend and be here for the weekend to enjoy the amazing group of speakers assembled. We are very honored to bring this amazing group of artists and technicians to LightBox in Astoria for a full weekend of alternative process photography sharing, learning, networking and fun with alternative process photographers from around the nation. This symposium is for the beginner and the advanced photographer interested in learning about alternative printing processes. We have planned a full weekend of gatherings, show openings, talks, demonstrations and opportunities to share your work with others. Bring your Alternative Process prints to display and share with attendees. A great opportunity to meet, share and learn from your peers from around the country.
Beginning Friday evening from 6-8pm, we will open the weekend with the Symposium registration, a meet and great gathering at the gallery and a pre opening reception for "Altered Visions", an exhibit of alternative process photography juried by Christina Z. Anderson, just for symposium attendees.
Saturday we host a day of artists' talks followed by the public Artists Opening Reception of "Altered Visions" from 5 – 8pm.
Sunday we will have a morning of print sharing with our five presenters as well as a print exchange. Sunday afternoon we offer 1.5hr demonstrations to pair with any of our presenters to learn more about their vision and process.
     
Fifty participants will be accepted to the symposium, please sign up early!
Contact michael at .(JavaScript must be enabled to view this email address) to sign up for the Symposium.
Fees
LightBox Symposium fees, $150
LightBox Members fees, $125
pay via PayPal
After you have paid the Symposium fee you will be contacted with more details about the weekend and to sign up for the following Artists Demonstrations. Select one Demonstration for $25 or up to three for a total of $50
Christina Z. Anderson
Artist Talk: Confluence: Contemporary Dim and Dark Room Practice
Demonstration: #1 11:00am
Cyanotype : A demonstration from the master on Exhibition-Worthy Cyanotype Printing
Demonstration: #2 2:00pm
Chemigram : Learn about "Pierre Cordier" Chemigram type with hard resists and incision techniques.
Demonstration: #3 3:30pm
Mordançage : A hands on demo, bring your own gelatin silver prints to put through the solutions.
Jim Fitzgerald
Artist Talk: Traditional Carbon Transfer Printing: Creating a Fine Art Print.
Demonstration: 12:30pm & 3:30pm
Carbon Transfer Printing: Learn the elements of the process from materials to emulsion and exposure then watch as the print emerges from the dark to reveal itself in this demonstration.
Denise Ross
Artist Talk: The Hand Made Silver Gelatin Emulsion, why not?
Demonstration: 11:00am & 2:00pm
Hand Made Silver Gelatin Emulsion: A primer of materials and techniques from the lady that wrote the book on Handmade Silver Emulsions.
Michael Puff
Artist Talk: The Art and the Imagination of the Platinum Palladium Process
Demonstration: 12:30pm & 3:30pm
Platinum Process: Observe Michaels unique approach from digital original to final platinum masterpiece, the well conceived image, the digital negative, the platinum print and unique techniques.
Karen Hymer
Talk: The Love of the Photopolymer Gravure Process
Demonstration: 12:30pm & 2:00pm
Photopolymure Gravure: Learn of the materials and techniques needed and discover the methods and secrets of Photopolymer Gravure.
Symposium Speakers
Christina Z. Anderson
Christina Z. Anderson's work focuses on the family snapshot, gender identity, the altered landscape, and the contemporary vanitas printed in a variety of 19th century photographic processes, primarily gum and casein bichromate, salted paper, cyanotype, platinum, and mordançage. Anderson's work has shown internationally in 110+ shows and 40+ publications. Anderson has authored books which have sold in 40 countries—The Experimental Photography Workbook, Gum Printing and Other Amazing Contact Printing Processes, Gum Printing, A Step by Step Manual Highlighting Artists and Their Creative Practice, Salted Paper Printing, A Step-by-Step Manual Highlighting Contemporary Artists, and her newest release Cyanotype: The Blueprint in Contemporary Practice; also Handcrafted: The Art and Practice of the Handmade Print co-authored with Wang, Jianming, King. Anderson is Series Editor for Focal Press/Routledge's newly-formed Contemporary Practices in Alternative Process Photography series. Anderson is Professor of Photography at Montana State University where she teaches the experimental black & white darkroom and alternative processes along with image+text design. Visit christinaZanderson.com. 
Editor, Contemporary Practices in Alternative Process Photography Series
Denise Ross
For over one hundred years silver gelatin emulsions defined photography. Today, of course, digital technology defines photography. Silver gelatin has joined the alternative/historical photographic processes. Fortunately for the artists who love film and silver gelatin printing paper, there are still commercial products available. Many may believe those products are their only way to work with the medium. Nay, verily! Handmade silver gelatin materials are easier, safer, and less expensive to make than many other alternative processes. The big bonus to all this is the width and depth of potential – everything from dry plates to film, paper negatives, and printing paper. Denise will present an overview of handmade silver gelatin emulsions. She is the author of The Light Farm website and two books: The Light Farm – Handmade Silver Gelatin Emulsions for Dry Plate, Paper, and Film and The Handmade Silver Gelatin Emulsion Print, published by Routledge/Focal Press.
Jim Fitzgerald
Imagine what it was like 155 years ago when the pioneers of photography, names like Ponton, Becquerel, Poitevin, Fargier and Swan were perfecting processes that would still be practiced today. A few dedicated carbon transfer printers today follow Swan's original patent from 1864. Jim is one of those artist's. Creating handmade carbon transfer prints is not for the faint at heart. Years of dedication to the process are required for the artist to understand the complexities and infinite possibilities this process affords the printer. Jim has found that the carbon prints from his large and ultra large format camera negatives are revealed to their fullest extent in the carbon transfer prints he creates. The carbon printer has at their disposal an unlimited palette with which to work from to create the most archival prints one can produce. Jim's carbon transfer prints are held in private collections around the world and he recently self published the first of its kind hand made carbon transfer collector edition Survivors I which contains original prints and carbon transfer text created completely by the artist.
Karen Hymer
Karen Hymer was born in Tucson, Arizona and has spent most of her life in the Sonoran desert. Hymer's experience and technical interests are wide-ranging. Although "trained" as a photographer and educator, her approach to image making explores the blending of photosensitive materials, digital media, and printmaking a. Her most recent work work, Age & Seduction, explores the effects of time on the human body and various plant life. Her richly detailed photogravures emphasize the interplay of texture, pattern, light and shadow in muted earth tones. Through the photopolymer gravure process she utilizes historic photographic methods, traditional printmaking techniques and digital technology. The gravure process is completely out-of-sync with contemporary popular photographic trends that privilege bigger, brighter, and faster. The use of fine watercolor paper enhances the tactile experience of each print. The velvet shadows afford detailed and sensual rendering of skin texture. Custom blending of inks highlights hands, arms, and torsos revealing a layered luminosity.
Hymer actively exhibits her work both nationally and internationally. Her work is featured in Clay Harmon's book Polymer Photogravure: A Step-by-Step Manual, Highlighting Artists and Their Creative Practice and is in several public collections, including the Center for Creative Photography and the Polaroid International Collection. Recently she received two winning awards from the 12th Julia Margaret Cameron Award, 2018, was the recipient of an Rfotofolio Choice Award, and received the Grand Prize in the International Juried Photographic Solarplate Exhibit at Alex Ferrone Gallery, New York, both in 2016.
In 2018 Karen relocated to Silver City, New Mexico. She is the owner and director of Light Art Space in historic downtown Silver City. Light Art Space features two galleries, wet darkrooms and a large studio space. Workshops in photopolymer gravure, cyanotype, palladium, and other art processes are offered.
Michael Puff
Michael Puff is a former theater set designer and scenic artist as well as a software architect at Stanford University. He now concentrates his energy on Fine Art Photography using 19th century printing processes.
His favorite subjects for photography encompass the natural world, the surreal and dancers. "I'm partial to the creativity and artistic expression of surreal," Michael says. "Like theater, it is innovative, thought-provoking, and plays with reality and illusion. The captured movement and shapes created by dancers forms a foundation for many of his images."
Michael has actively pursued photography as an art form since 2004. Beginning the spring of 2011, through workshops and private session, he has studied platinum/palladium printing with master printer Mark I. Nelson, creator of the Precision Digital Negatives system. Michael fell in love with the hand made printing process.
Contact .(JavaScript must be enabled to view this email address) for more details and info.