Lightbox Photographic Gallery Call for Entries
Fairy Tales & Nuclear Bombs (What Happened to the Summer of Love)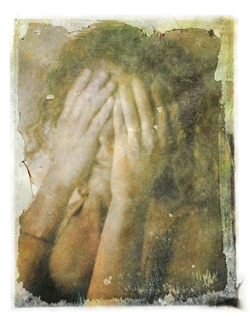 "Fear in a Handful of Dust" – Diane Fenster
Call for Submissions
"Fairy Tales & Nuclear Bombs"
(What Happened to the Summer of Love)
October 14 – November 7, 2017
Submission deadline – Friday, September 15, 2017
Juror • Diane Fenster
2017 has been a year in which we have been barraged daily with unbelievable news, not fake news. Our society is disheartened and on the brink of implosion. As individuals we stand alone to face the ugly truth that stares at us and we each find a way to make it through to the next day. As our respected Country devolves from societies norms and standards, we wish you to join together to create an exhibit of eternal dread, defiant resistance, soulful reflection and everlasting hope and beauty that will guide us all into the future.
May we stand together.
Individual expressions using Photographic Imagery in any Photographic Medium are desired.
We are very happy to have Photographic Artist Diane Fenster as Juror for this exhibit.
"The Summer of Love and the hippie revolution were primarily centered on remaining outside the taint of the major societal forces of war and greed. Dreams were cultivated spiritually and chemically. The post WWII years of repressive ideas, clothing and regimentation exploded into a wide array of color and music and dance, expressions of both individual dreams and visions of a society which nurtured creativity and personal liberty to the utmost while taking consideration of the environment in a sustainable way.
Now decades later the tie dye clothes are as tattered as the dreams. What was lost was more than these brief experiments in lifestyle but an imagination which honored ones' visions and possibilities of a joyful existence. Though those aspirations of youth now seem distant, there is a residual flame, burning deep and still revolutionary and radical in it's demand for joy and love."
For this call I'd like to see your dreams or nightmares as we face the anxiety of the present." ~ Diane Fenster